Welcome to session number three in our multi-part series on Unified Endpoint Management! In this session, we'll:
Recap what Unified Endpoint Management means
Review our maturity model phases and the categories associated to it
Take a little bit deeper look at the Management Infrastructure Level 2
Cover a high level review of what that means to be a Level 2 Management Infrastructure
Explore some general next steps of where to go from there
Talk about some actionable steps that you can take for more information
What Is Unified Endpoint Management?
Generally speaking, Unified Endpoint Management is a single platform for management of devices such as phones, tablets, laptops, and desktops.
Standard Definition: A single platform for management of devices such as phones, tablets, laptops, and desktops supporting many different use cases.​
Model has just a little bit of a different approach. We also look at the processes that are required to support the management of those devices in addition to just the platform itself that's managing them.
Model's Definition: A collection of processes supported by technology for the management of devices such as phones, tablets, laptops, and desktops supporting many different use cases coupled with well-defined processes, molded to your organization's security and application needs, to enable productivity while reducing potential security risks.
We look at well-defined processes that are molded to your organization's security and application needs to ultimately drive productivity and reduce security risks.
The Maturity Model
We rate Unified Endpoint Management maturity through our proprietary Maturity Model. This maturity model has some common phases in it that aren't something that we've developed and should be somewhat recognizable.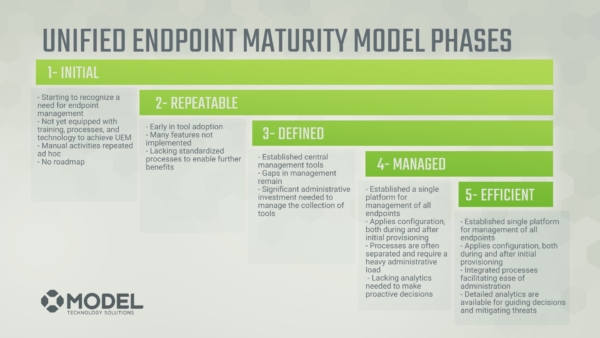 The five phases of the maturity model are:
Initial
You're starting to realize you have a need for growth and maturity.
Repeatable
Where you're early in that adoption, you have many features that are not implemented yet, and you're lacking standardization around processes to enable further benefits.
Defined
You have established central tools but you still have some gaps in management and it requires a lot of administrative investment.
Managed
You have that single platform of a single tool for your endpoints. You apply configuration, both pre-provisioning and post-provisioning. However, your processes tend to still be pretty require a lot of heavy administrative effort. And you're lacking the aggregate of the analytical data to make some strategic decisions in the organization.
Efficient
You've got that established single platform and you're applying configuration pre and post-provisioning. You've got integrated processes for administration, making it super easy. And you have a lot of analytics that are driving the strategic decisions in your organization.
The Model Technology Maturity Model then narrows in on those phases and how they overlap onto five categories for device management. We've defined five device management categories including:
Management Infrastructure
Configuration Management
Updates and Servicing
Application Management
Endpoint Security
Each one of those topics themselves have many different sub-categories.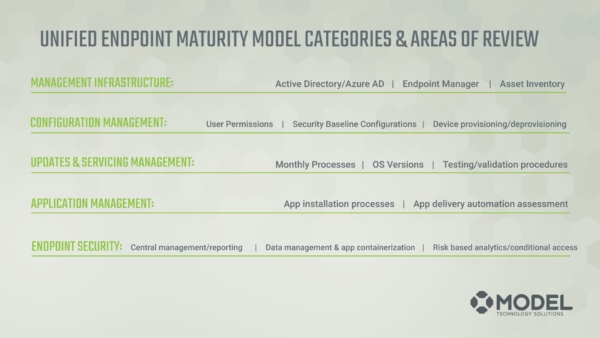 Each of these categories will be covered in-depth through one of these sessions in this series.
What Does It Look Like?
What does Management Level 2 look like practically in an organization's infrastructure?
Devices may be joined to active directory or Azure active directory.
Users are being managed in that central directory.
You have some initial configuration capabilities, but you're not necessarily actively managing it or it's not kept up to date.
A good example of that would be that maybe you have some configurations in group policy or some containers or OUs created in active directory but then you never manage them further. People go in there, devices go in there, and that's just where they live.
Loose processes might exist for configurations.
The infrastructure has a lot more capabilities than what it's being used for.
Many configurations or deployments are still manual.
Often times at this level your employee's internal tool set expertise can be lacking because they're generalist. One person is doing many jobs, resulting in heavy administrative effort. That's because those individuals are burdened with many tasks and responsibilities.
Bottom line, the foundation exists that could facilitate so many other areas of strategic growth and tool implementation, but you're still at that very basic level. As devices get provisioned, they go into active directory and they get moved to the OU. That's why it's a repeatable phase: you know what to expect out of a device, but there's still a lot of room for improvement.
Tools for Implementation
Some examples of tool sets for implementing level 2 are:
Active Directory
Azure Active Directory
Intune, or Endpoint Manager
Microsoft Endpoint Configuration Manager or SCCM
This list is not exhaustive. There are other tools that we could implement to further along our infrastructure based on where we are with our configuration needs. We will cover some of these other tools in other videos.
How To Advance
1. Ensure that the current infrastructure will meet your goals for the next few years.
Let's say you have SCCM in your environment. You have active directory, and your Azure active directory synchronization is happenings and devices get joined to active directory. The synchronization is occurring between 80 sync, 80 connect. Those devices are being lifted up into Azure, synchronized up in Azure, and enrolled in Intune.
Making sure that your current infrastructure will meet your goals for the next one to two years is essential at this point. You may not have the level of investment in the current tools you need, such as SCCM or Intune, to maximize your maturity. Whatever tools you employ, you need them and their features to help you meet your goals for the next one to two years.
2. Continue to invest in the management platforms, people, or services to leverage your current tool set configuration, keep those platforms up to date, and start fully utilizing them.
One question that we get asked quite often is, "Well, we have SCCM or Intune configured, but what now?" Investing in people or services to leverage your current tool set in the configurations and keep them up to date is a perfect next step to get you past the repeatable phase.
3. Begin creating automated processes to ensure more consistent results.
After you've ensured that that tool set is going to meet your needs for the next couple of years, and after the investment has been made in people in services, you can then begin to refine your processes from there to maximize your infrastructure efficiency and security.
The Maturity Model Assessment
Still not sure where, exactly, your infrastructure maturity level is? Model Technology Solutions can help with that! We can help to orient you and identify exactly what your infrastructure maturity is in each category.
We can provide a maturity assessment of your infrastructure that will:
Assess your infrastructure maturity
Identify security risks
Identify opportunities for improvement and cost deferment
Out of this assessment we provide a findings and recommendation report that rates your infrastructure through the lens of our maturity model by-category. Then you can see how through strategic investment you'll be able to move your organization to the next level of maturity in any particular category.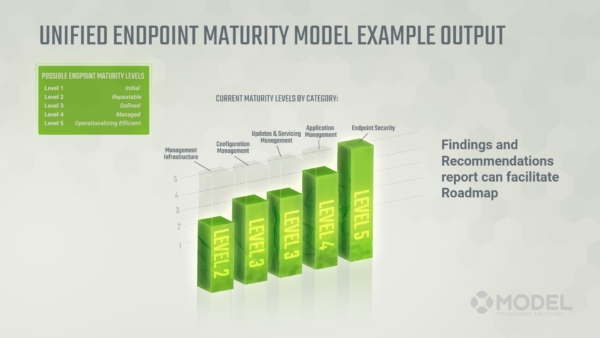 If you'd like to have an assessment done, the assessment consists of two 90 minute sessions. The process for conducting the assessment is:
You'll get into a questionnaire to fill out and a list of things or items to be prepared to talk about in the first 90 minute session.
At that first 90 minute session, we'll use the data that you filled out from the questionnaire to really learn where you're at and understand your priorities as an organization and your capabilities as they exist today.
We will formulate a findings and recommendations report which we'll use the second 90 minutes session to cover in detail.
You'll have an opportunity to ask any questions along the way.
If you're interested in the assessment, or you have any questions, feel free click here to learn more. Thanks for watching, and be on the lookout for the next post in the series!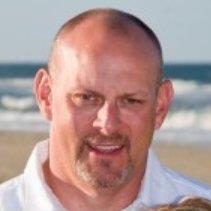 Three Minutes For A More Secure & Efficient Infrastructure
Short and to the point, Steve's Email Blasts give you endpoint management tips, tricks, and news in three minutes or less email read-time, guaranteed.
These Posts Might Be Helpful Too
Model Technology Solutions
Model Technology Solutions is a small but mighty band of infrastructure experts. We've helped companies in diverse industries to modernize and automate their infrastructures through effectively managing their Microsoft endpoint suite.
With us on your team, you'll watch your security and compliance go up and your IT team's costs (and headaches) go down. You'll relax in knowing that your endpoints will be secure and online when your users need them most. And you'll finally get back to your most-important tasks.