Cybersecurity management
Advanced Microsoft 365 Vulnerability, Risk, And Threat Management Services
Protect your organization from modern cyber threats through our cybersecurity and M365 threat management consulting services.
What We Do
We Help You Better Manage Modern Cyber Threats
In today's ever-shifting cybersecurity landscape, you can't just think about today's problems. You've always got to be preparing for dangers on the horizon, well before they threaten to affect your company. However, with the complexity of what's required to adopt this kind of proactive cybersecurity strategy, simple in-house cybersecurity solutions are rapidly becoming obsolete.
Microsoft is the best cybersecurity provider you've probably never heard of. In the last several years, their solutions have jumped to the top of the Gartner report as leaders in cybersecurity. Microsoft's vast ecosystem gives them an unparalleled ability to detect and catalog threats, and they pass that breadth on to their customers through their Defender solutions.
We're a dedicated Microsoft CSSP, meaning we know how to make Defender work for your organization. Using our team's combined decades of Microsoft solution experience, we can help you to proactively assess, plan for, and manage threats to your endpoints, identities, cloud apps, and collaboration tools, and keep you safe and operational even in the event of an incident.
Our extensive defense in depth expertise and tailored delivery methods create the perfect cybersecurity experience for your company. We combine the right people, our expert processes, and the best technology to help you fill your gaps or take care of your cybersecurity solution entirely, from concept, to deploying the solution, to its management.
You should never have anything but absolute clarity and confidence about your cybersecurity posture. Your Microsoft solutions plus our expertise create a perfect synthesis to prepare for, defend against, respond to, and recover from any cyber threat that currently exists or has yet to burst onto the scene.
OUR TOOLS
Experts In Microsoft Defender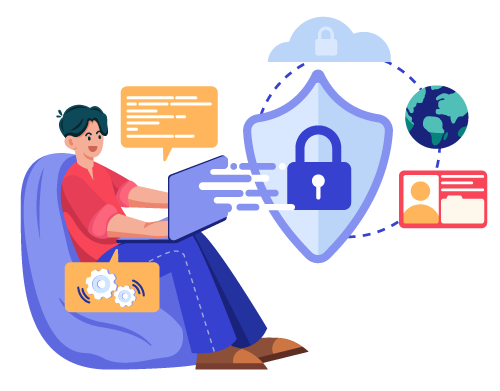 ✓ Microsoft Defender for Business
✓ Microsoft 365 Defender
Microsoft Defender for Endpoint
Microsoft Defender for Office 365
Microsoft Defender for Identity
Microsoft Defender for Cloud Apps
Microsoft Defender Vulnerability Management
services
Key Service Categories
Assessments
We evaluate your organization's security preparedness through CIS- and NIST-based assessments, discover your gaps, and prescribe the best projects you could undertake to improve your stance and keep costs low.
Vulnerability Scanning and Remediation
We scan your systems to find known vulnerabilities and help to remediate them, reducing your stress and keeping your internal team focused on other pressing tasks.
Penetration Testing
We use simulated cyber attacks against your systems to discover and exploit vulnerabilities. Why wait until it's the bad guys attacking to practice your defense?
Manage Threats
We help you design and manage your proactive protection system using Microsoft 365 Defender to reduce your attack surface and exposure score and improve your cybersecurity.
projects
Sample Cybersecurity Projects
Vulnerability management as a service
Microsoft 365 security and compliance solutions
Advanced endpoint protection services
Threat and cyber intelligence security solutions
Risk management solutions
Managed Microsoft 365 cybersecurity solutions
process
Our Cybersecurity Process
01
Assess
We understand your organization's cybersecurity maturity and your internal processes to make sure that you're improving the right things.
02
Plan
We work with your team to prioritize actions that increase your cybersecurity, reduce your vulnerabilities, and keep costs as low as possible.
03
Manage
We help you to deploy and configure your Microsoft cybersecurity tools then continue to optimize your proactive safeguards as we manage the solution.
The Benefits To Your Organization
Multiple tools for cybersecurity is counter intuitive. Streamline your stack into Microsoft's single, powerful Defender solution.
Bigger Team, Smaller Cost
Add extra hands and minds to your internal team without the cost of an internal cybersecurity department.
Spend less money on better cybersecurity when you simplify your tool set and skip building out your internal department.
Improved M365 Secure Score
Watch your Microsoft 365 Secure Score rise as we help address recommendations and protect your environment.
Microsoft's advanced behavior analytics from AI and machine learning and 43 trillion daily security signals provide expansive insights to help protect your organization from modern threats.
Microsoft has a massive global ecosystem and an award-winning cybersecurity platform. With these at your back, you'll quickly identify and remediate vulnerabilities and known gaps inside your systems.
Microsoft's global cloud infrastructure is scalable, accessible, secure, and can handle almost any disaster. Be confident that your cloud resources will be safe.
Let Us Handle Your Alerts
Too many alerts keeping you awake at night? Delegate your vulnerability detection and remediation to our team and or focus on other tasks…or just get some sleep.
Use Microsoft's scalable cloud native systems to deliver on-demand resources anywhere in the world.
Are you cyber-ready? Show your insurance agency. We deploy industry-standard controls, procedures, and safeguards that provide documented policies which insurance companies require to lower premiums.







"A wonderful, superb engagement up to this point."
- Anonymous By Request, A Current Client | City Government
"Model completely stepped in to take care of all the updates and testing that was lots of work for me. I'm no longer the bottleneck for my team."
- Anonymous By Request, VP of Cybersecurity and Infrastructure | A Global Private Equity Firm
"We've just had our first Quarterly Business Review with their Unified Endpoint Management as a Service, and we have been nothing but impressed."
- Tom Steinthal, L Catterton | Venture Capital
"We don't have to do a lot of the leg work that would come with deploying packages. We've got hundreds of computers on our network, and they make the process easy."
- Ian Blanchette, MiTek | Construction
"Model really made them feel more empowered to request change, and to be part of the testing of updates and new features and new software."
- Anonymous By Request, VP of Cybersecurity and Infrastructure | A Global Private Equity Firm
"We depend on [Model] as valuable team members and as an extension of our internal resources."
- Susan Taylor | Bryan Cave Leighton Paisner | Legal Services
"If Model suddenly went away, I don't think we'd hire someone else. We'd have to come up with a different way of doing things. Because I think they're irreplaceable."
- Anonymous By Request, A Current Client | Legal Services
"I appreciate the professionalism, efficiency, knowledge, workmanship, and attention to detail. I will always keep Model in mind when projects come up and recommend their services to whomever I cross paths with."
- Jason Herr, Senior Global Infrastructure Specialist | Curium | Healthcare
"They know us, we know them, they know our environment, they know how our lawyers work. [When new projects come up, hiring them is] so much easier than starting at ground zero."
- Anonymous By Request, A Current Client | Legal Services
"When I know that someone can get the job done, and I know the price is reasonable, I'm going to just keep using them. Over and over again, we keep using Model, because we know they're going to do it right."
- Walter Fletcher, Cybersecurity Analyst | Edgewell | Healthcare
"There's no greasy salesmen, no high-pressure. There's an approach of a partnership - they're here to partner with you. It just feels like they're an extension of our company."
- Anonymous By Request, A Current Client | Healthcare
"Model is totally solid. They really are top notch. 😊"
- Peter Daniels, Senior Data Architect, CRB  | Construction
TELL US ABOUT YOUR CYBERSECURITY NEEDS
Don't let today's ever-shifting cybersecurity landscape affect your confidence. If you're deploying Microsoft 365 Defender, we can help you to leverage this powerful solution set to manage even the most sophisticated and complex modern cyber threats. Cybersecurity today is far too important and complex to go it on your own. Are you ready to add our cybersecurity experts to your team?
M365 As A Service
Cybersecurity Management Simplified
Simple pricing. Expert processes. Standardized scope. Our M365 as a Service solution is designed to make managing your Microsoft cybersecurity solutions easy and fit nicely into your budget.
Case Studies
Customer Success Stories
We have extensive expertise enabling digital transformations in healthcare, financial services, manufacturing, construction, legal services, retail, venture capital, energy utility, and government. Whatever industry you are in, we can help you deploy and manage your Microsoft tools with expertise.