Vulnerability Remediation as a Service
The Bottom Line
Allocate More IT Resources To Value-Added Tasks
A common theme we've noticed during our regular touchpoints with clients is that they're being overwhelmed by vulnerability remediation. Security departments are continually requesting remediation of newly identified vulnerabilities. These tasks, alongside day-to-day operations, take a significant amount of time to research, test, and deploy. Our newest service offering, Vulnerability Remediation as a Service, can help complete those on-going tasks.
To further assist in VR, we're working with our clients that want a view of their vulnerability landscape using our Power BI Dashboard. This custom dashboard gives a quick and simple way to assess your organizational risk for remediation prioritization, create an order of priority, and identify the remediated devices.
At Model Technology Solutions, we think that IT automation is a powerful tool for improving security, efficiency, and reallocating resources. We'd love to help you tackle your vulnerabilities and free your team for other tasks you'd like to focus on in addition to keeping things secure.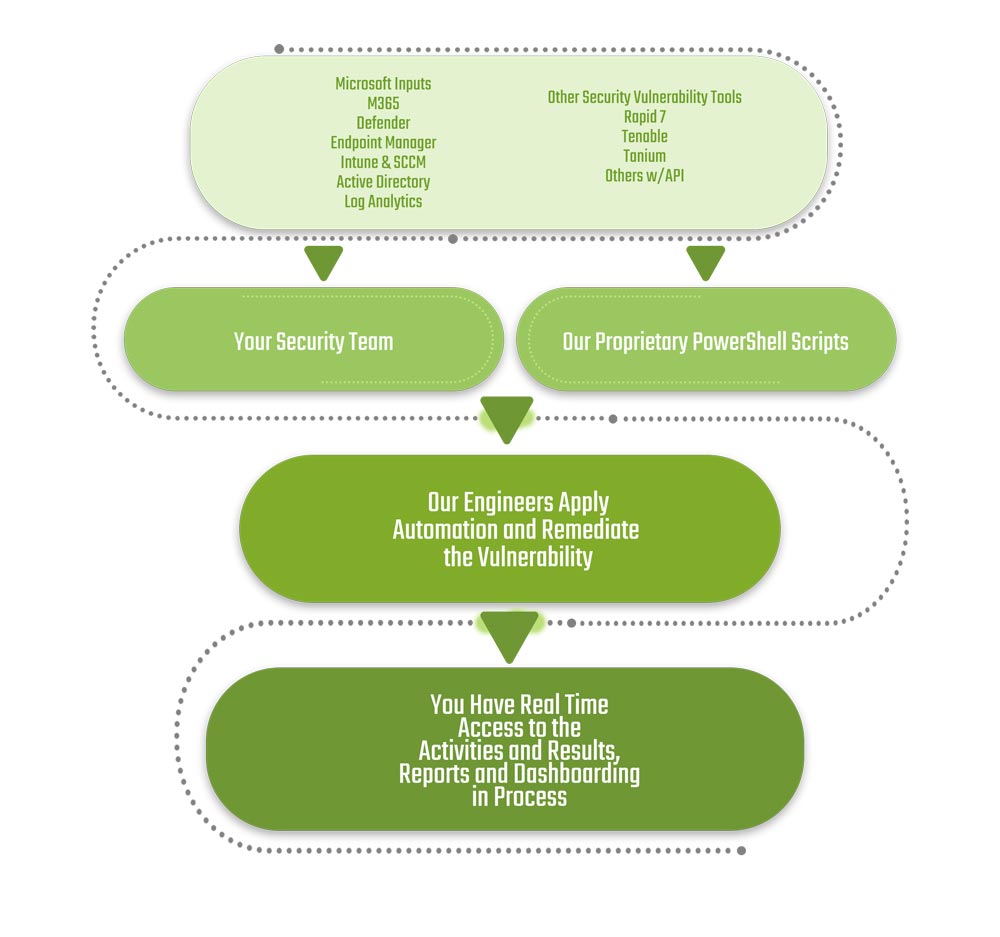 The Bottom Line
Typical Vulnerabilities

We Help Remediate
OS Patches not applied
Devices that need restarted Outdated drivers
Out of compliance systems
Out of configuration systems
General system security recommendations
Stale devices in your directory
Devices that haven't checked in for a period
OS upgrades
Unwanted rogue software
scope
Vulnerability Remediation Process
Identify
You provide a vulnerability report and/or identify specific vulnerabilities we want or need to address. If you do not have specific priority vulnerabilities to address, we will make prioritization recommendations based on our review of your vulnerability report.
Design
We develop remediation plans for prioritized vulnerabilities, including (but not limited to):
Identification of strategy and changes necessary to remediate vulnerability.
Identification of technical configuration to implement within your environment to remediate vulnerability, leveraging existing tools and resources where available or providing recommendations on additional tools if and when necessary.
Prepare
We execute your change management processes to obtain approval to implement the necessary changes.
Implement
We implement the remediation plan as approved, working you and your staff as appropriate, including (but not limited to) the following:
Update of technical configuration as needed and as possible using your available tools, including (but not limited to):

Development of custom scripts, as needed
Creation or update of policies to control endpoint configuration, as needed

Group Policy
Intune Policy
MECM client settings

Packaging and deployment of applications and application updates, as needed

Intune app packaging & deployment
MECM app packaging & deployment

Deployment of operating system updates and upgrades, as needed
Update of endpoint and application configuration, as needed

Testing & validation of technical configuration changes within controlled scenarios
Manage the piloting of technical configuration changes with designated pilot devices and users
Manage and present further reviews of the changes as required by your change management processes
Manage the production rollout of technical configuration changes
Assist your staff with the creation of required end-user communication as part of the change management processes

You will bear final responsibility for distribution of communication to necessary recipients

Remediate issues with technical configuration change implementation through minimum 95% compliance with active and applicable users and endpoint changes.
Operationalize
We meet with you quarterly to review service status, discuss the previous quarter's successes, plan the upcoming quarter's priorities, and provide recommendations for improvement.
What Our Clients Have To Say
"The Vulnerability Remediation service has been helpful to us, especially when we lost our VP Global Cybersecurity Lead. Even now that we've newly hired, we continue to work with Model on specific VR tasks."
CIO | Global Venture Private Equity Firm
TALK TO A MODEL REPRESENTATIVE
Interested in talking to a Model representative about how our VRaaS offering could support your current IT team? We'd love to chat and answer any questions you might have.
Simply fill out the form, and our partner and VP of Sales and Marketing Steve Bowman will reach out to you via email to answer questions and – if necessary – set up an appointment to further discuss the services with you and your team.