Hey there!  I recently ran up against an issue with the "Configuration Manager 1702 Hotfix Rollup (KB4019926)" getting stuck after upgrading SCCM to 1702.
SYMPTOM
As expected, after the upgrade, the new hot fix package appeared in the console as "Available for Download."
After clicking the Download button, the button went gray and I waited…and waited…and waited however it was just stuck still showing "Available for download" with no ability to click the download button again.

A lesson I believe we all learn very quickly when working with SCCM is that patience can be your friend so I let it sit overnight with the hopes that when I came in in the morning all would be right with the world and I could install the update.
I am betting you have guessed already that this wan't the case when I came in or I wouldn't be here typing away on this post right now.  😉
So like any good admin, I start digging through the CMUpdate.log and the DMPDownloader.log.  Unfortunately I didn't turn anything up there.  My next step was to see if it actually did download the content so I navigated to Program Files\Microsoft Configuration Manager\CMUStaging and discovered a GUID based folder with the date and time stamp of just about the time I clicked that Download button.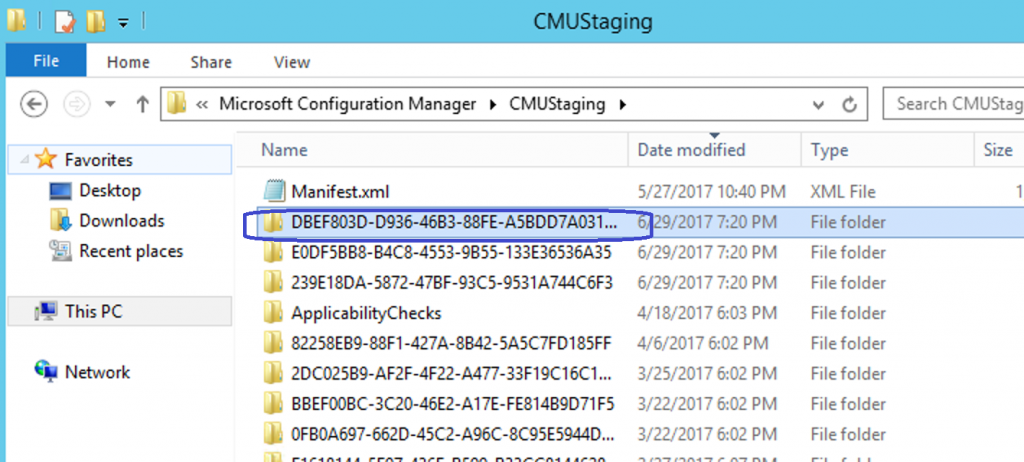 After some quick Bing searches, I came across an old article from Microsoft about an issue where Current Branch Tech Preview 1509 would get stuck in a state of "Installing" and the fix was to execute a Stored Procedure in the database to correct it.
From the article, the query to run to fix that particular issue was:
EXEC spCMUSetUpdatePackageState N'dcd17922-2c96-4bd7-b72d-e9159582cdf2', 262146, N''
THE FIX
As you can see there is a GUID that is being passed to the SP.  Being the the daredevil that I am, I decided to replace the GUID from the article with the GUID that comprises the CMUStaging folder discussed above.
Actual SQL query I used:
EXEC spCMUSetUpdatePackageState N'DBEF803D-D936-46B3-88FE-A5BDD7A03168', 262146, N''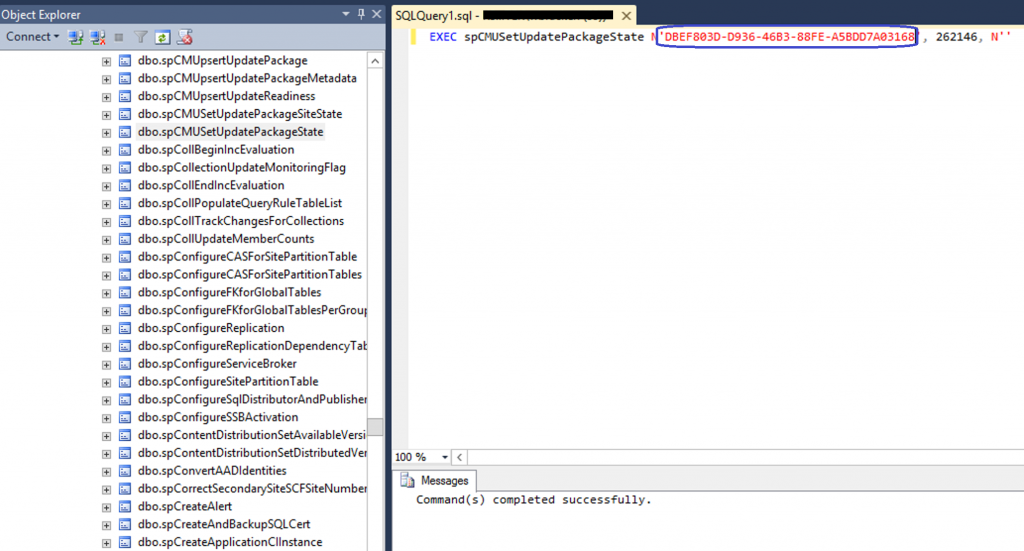 Happy days ensued as a quick refresh of the update in the console now shows "Ready to install."

Hopefully you don't run into this issue, however if you do now you know how to unstick those pesky SCCM updates. If I can be of any further assistance to you on this, don't hesitate to get in touch!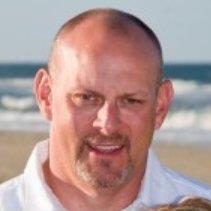 Three Minutes For A More Secure & Efficient Infrastructure
Short and to the point, Steve's Email Blasts give you endpoint management tips, tricks, and news in three minutes or less email read-time, guaranteed.
These Posts Might Be Helpful Too
Model Technology Solutions
Model Technology Solutions is a small but mighty band of infrastructure experts. We've helped companies in diverse industries to modernize and automate their infrastructures through effectively managing their Microsoft endpoint suite.
With us on your team, you'll watch your security and compliance go up and your IT team's costs (and headaches) go down. You'll relax in knowing that your endpoints will be secure and online when your users need them most. And you'll finally get back to your most-important tasks.