Estimated Reading Time:
3
minutes
Hey there!  I recently ran up against an issue with the "Configuration Manager 1702 Hotfix Rollup (KB4019926)" getting stuck after upgrading SCCM to 1702.
[br]
SYMPTOM
As expected, after the upgrade, the new hot fix package appeared in the console as "Available for Download."
[br]
After clicking the Download button, the button went gray and I waited…and waited…and waited however it was just stuck still showing "Available for download" with no ability to click the download button again.
[br]

[br]
A lesson I believe we all learn very quickly when working with SCCM is that patience can be your friend so I let it sit overnight with the hopes that when I came in in the morning all would be right with the world and I could install the update.
[br]
I am betting you have guessed already that this wan't the case when I came in or I wouldn't be here typing away on this post right now.  😉
[br]
So like any good admin, I start digging through the CMUpdate.log and the DMPDownloader.log.  Unfortunately I didn't turn anything up there.  My next step was to see if it actually did download the content so I navigated to Program Files\Microsoft Configuration Manager\CMUStaging and discovered a GUID based folder with the date and time stamp of just about the time I clicked that Download button.
[br]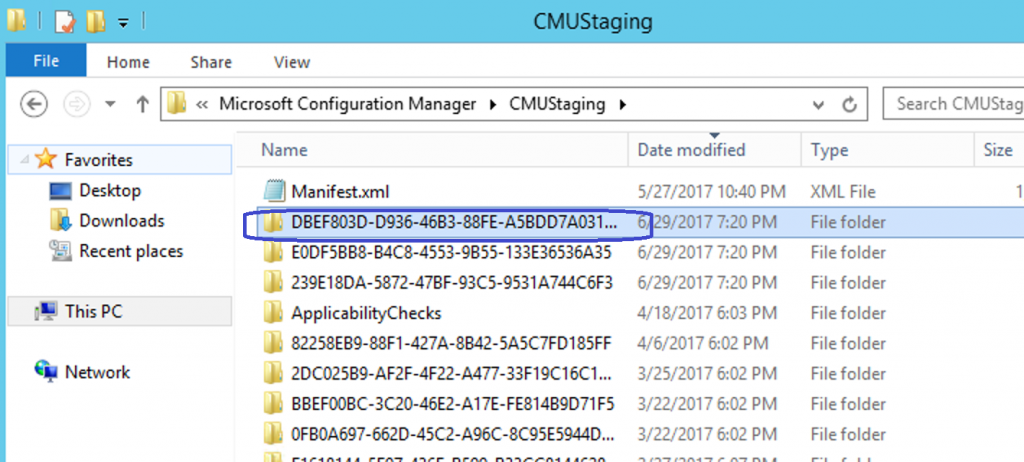 [br]
After some quick Bing searches, I came across an old article from Microsoft about an issue where Current Branch Tech Preview 1509 would get stuck in a state of "Installing" and the fix was to execute a Stored Procedure in the database to correct it.
[br]
From the article, the query to run to fix that particular issue was:
EXEC spCMUSetUpdatePackageState N'dcd17922-2c96-4bd7-b72d-e9159582cdf2', 262146, N''
THE FIX
As you can see there is a GUID that is being passed to the SP.  Being the the daredevil that I am, I decided to replace the GUID from the article with the GUID that comprises the CMUStaging folder discussed above.
Actual SQL query I used:
EXEC spCMUSetUpdatePackageState N'DBEF803D-D936-46B3-88FE-A5BDD7A03168', 262146, N''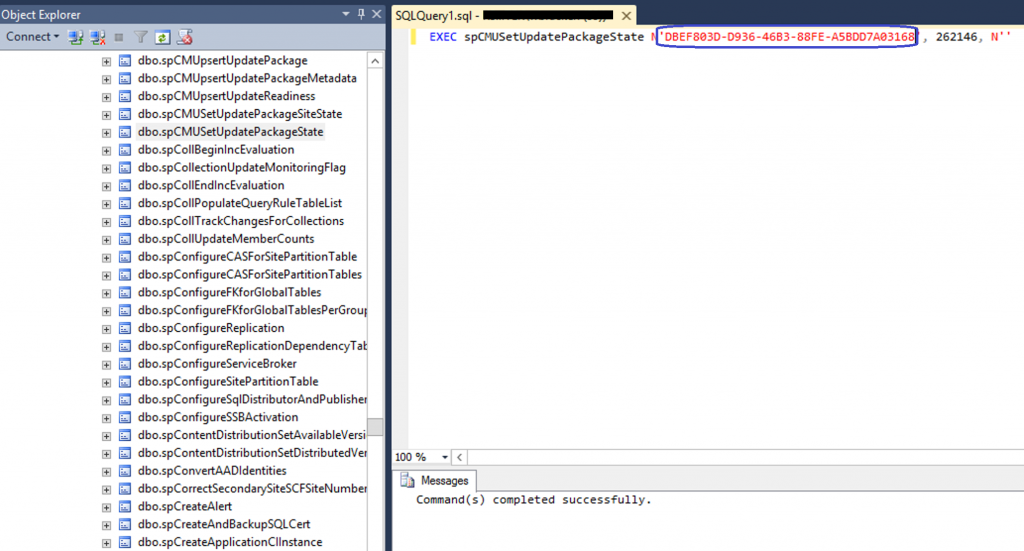 [br]
Happy days ensued as a quick refresh of the update in the console now shows "Ready to install."
[br]

[br]
Hopefully you don't run into this issue, however if you do now you know how to unstick those pesky SCCM updates. If I can be of any further assistance to you on this, don't hesitate to get in touch!