Estimated Reading Time:
3
minutes
SCCM vNext Feature: Updates and Servicing
Hey everyone!  I have been playing around with the next version of SCCM (currently dubbed vNext) that is as of the time of this post, in Tech Preview 3 (available here).
The new functionality of vNext that I want to cover today is Updates and Servicing!
What is Updates and Servicing?  Glad you asked!  When you install Tech Preview 3, a new site system role is automatically installed called Service Connection Point.  This site system role connects to the new Configuration Manager cloud service and checks for/notifies you of updates for your SCCM Infrastructure.
You might be saying to yourself "Well that sounds cool, but I already monitor the SCCM TechNet Blog for update releases so this doesn't sound that useful."  Hold on to your britches, this is not a simple notification feature, no no, this can notify you of an update, download the update, and install the update with a click of a button!
Here's the properties of the new role: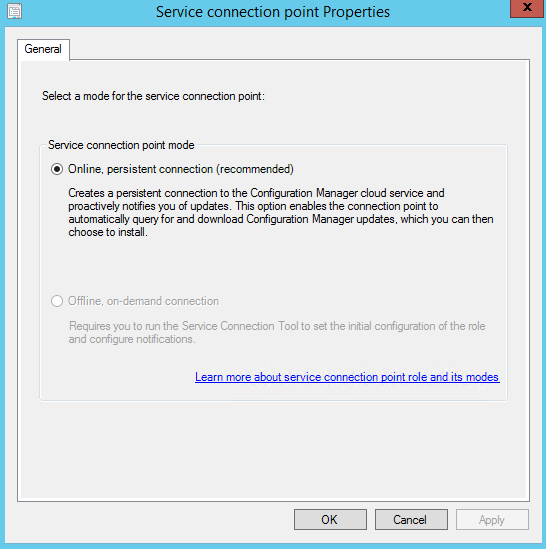 It appears that persistent connection and automatic downloads are forced during TP3, but as you can see above, there's a placeholder for offline, on-demand connection that will certainly be unlocked prior to RTM.
Let's take a look at what this looks like in the Admin console shall we?  So today, Microsoft released an update for Tech Preview 3, and wouldn't you know it, this update is available through the Updates and Services node (which coincidentally I found out via the SCCM TechNet Blog)
I navigated to Administration > Cloud Services > Updates and Servicing, and low and behold there was the update in the state of "Downloading".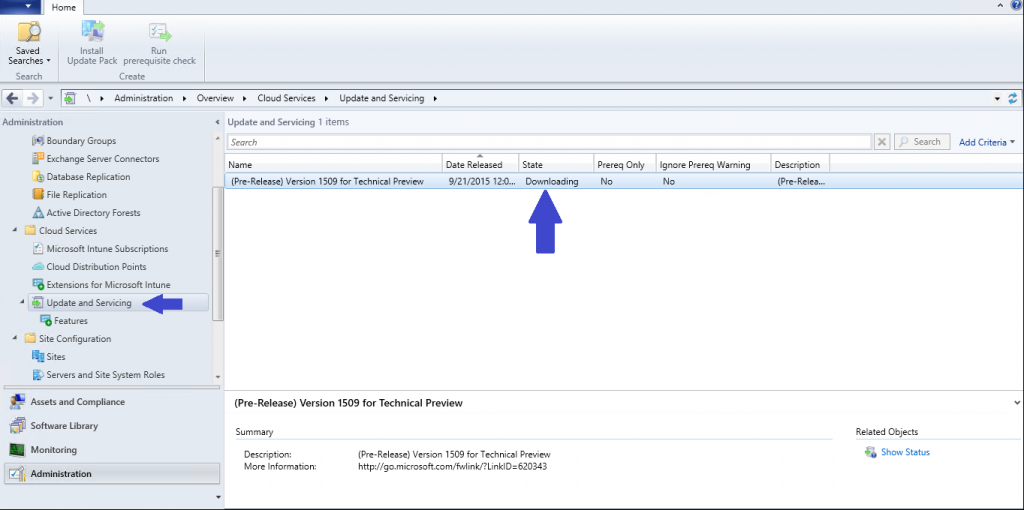 Note: It appears the update was downloaded to C:\Program Files\Microsoft Configuration Manager\EasySetupPayload. Hopefully this is configurable when vNext RTM's
Once the update completed downloading, the two buttons on the ribbon became usable and the State of the update turned to Available.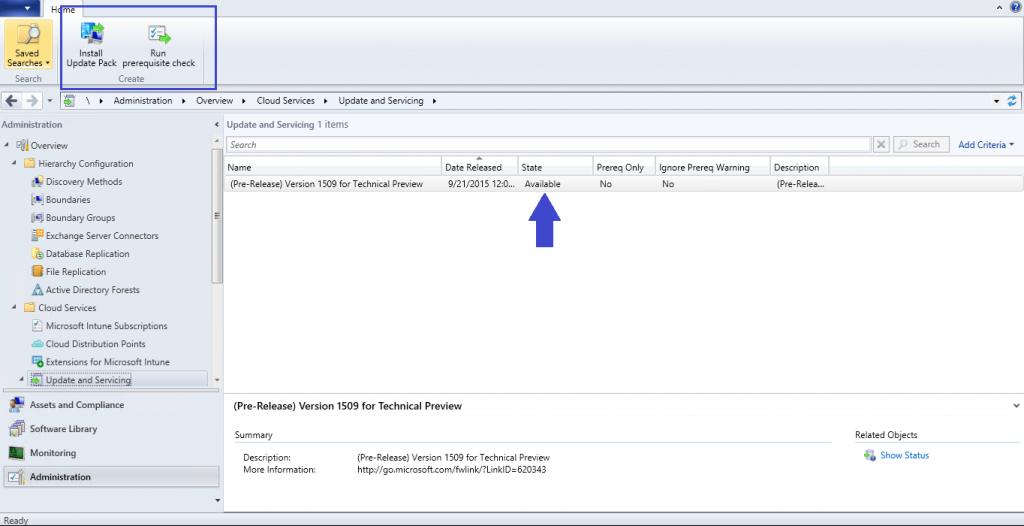 Now here's what I can only assume is product of being a Tech Preview… Wanting to see how the Run prerequisite check worked, I decided to start with that.  It did indeed change state to Checking Prerequisite, however it also went straight to installing afterwards.  I decided to click Show Status, I mean, wouldn't you?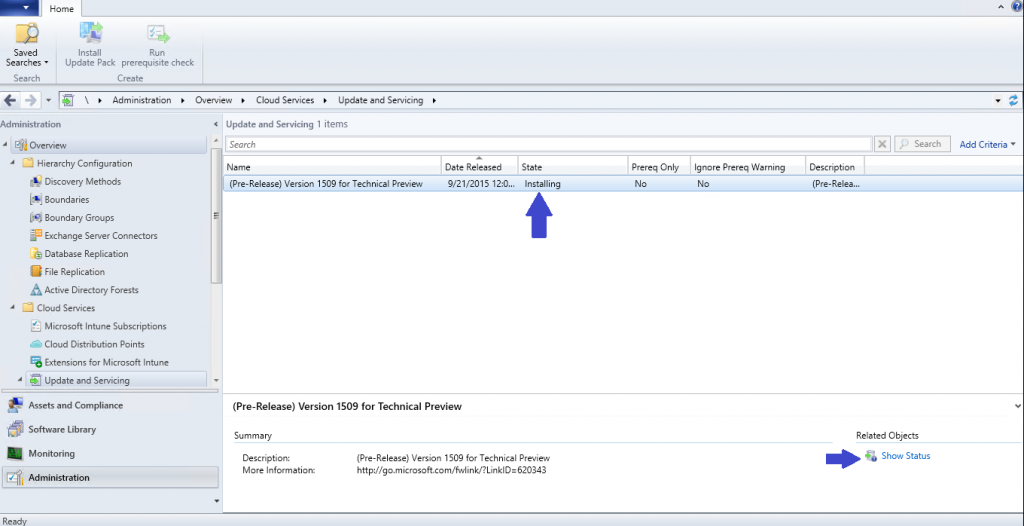 This took me (as expected) to the Monitoring > Site Service Status node.  I then clicked Show Status.  You are shocked by this I know.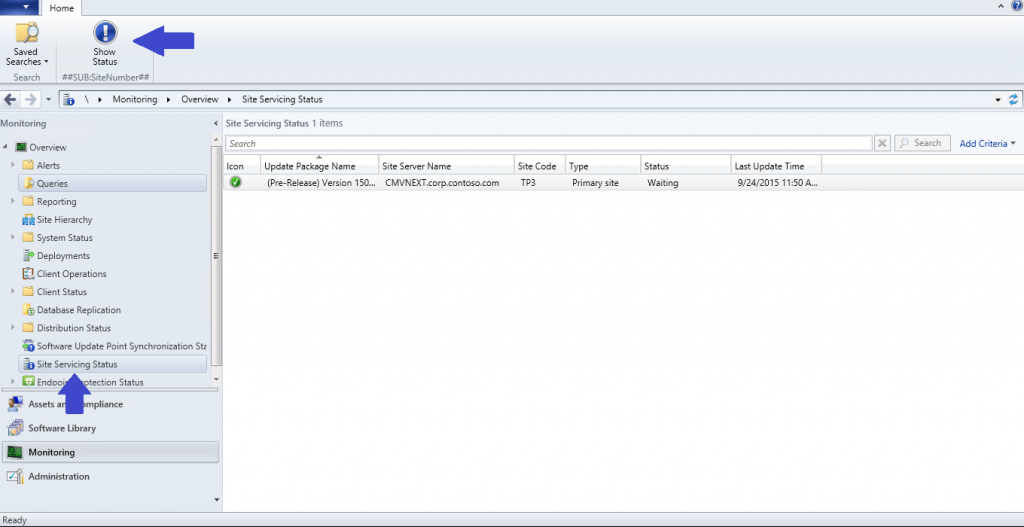 Here I was able to track the progress of the install at a high level.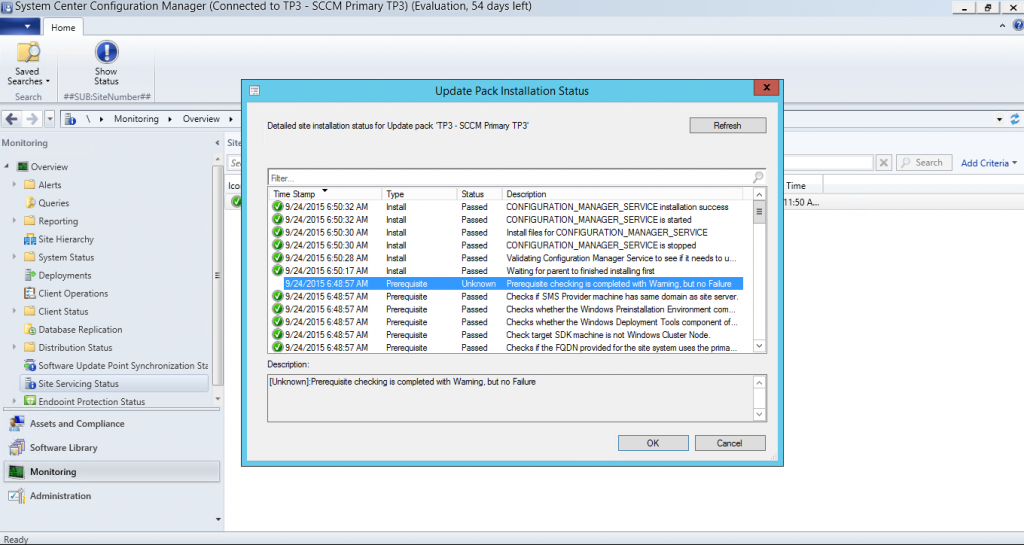 Wanting more, I started digging for the log. The log was easily located and aptly named CMUpdate.log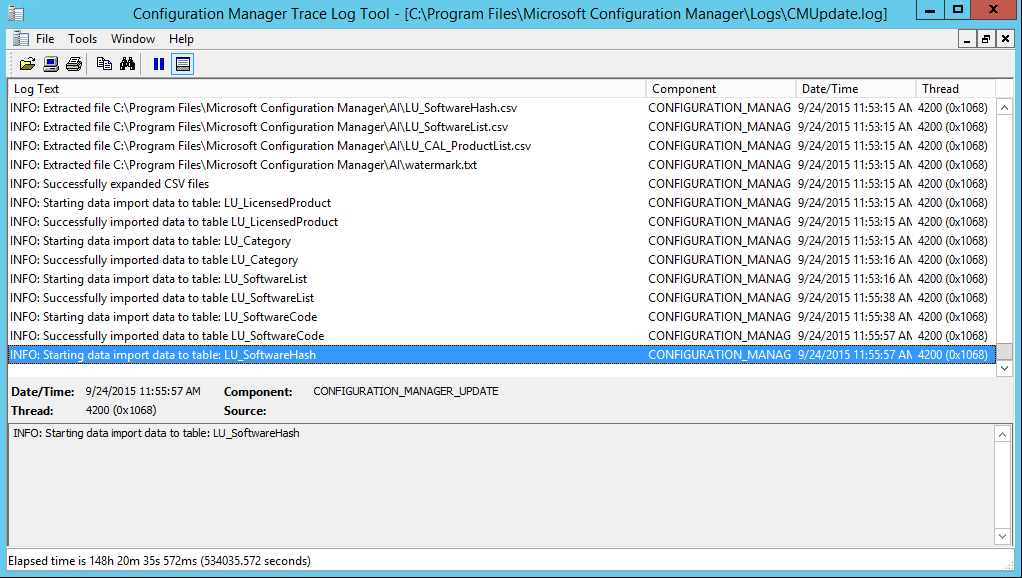 Curiously, once the install completed the Status became Not Applicable. I found this a bit odd and expected it would show Installed. Guess we will see if that changes in the future.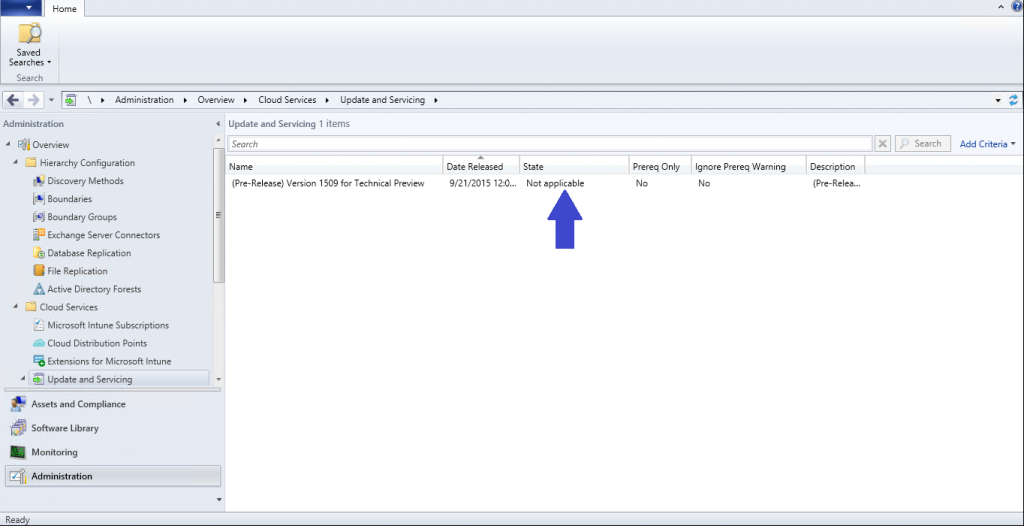 Lastly, a welcome addition to this feature is the prompt to upgrade the Admin Console!


After I clicked OK, the updated Admin Console was downloaded and installed. How easy was that update?!
Hopefully you share my excitement for how awesome this feature will be for rapid updates and servicing in the next major RTM release of SCCM.
SCCM vNext has a slew of new features that we will be discussing in future blogs. Get on out to Microsoft and start evaluating today!