Estimated Reading Time:
3
minutes
When my twin sons were around 5 years old, my wife and I decided to purchase them "big boy bikes."  I remember driving over to the local Walmart…the excitement of getting a new bike shined brilliantly from their faces. Once we arrived we made our way back to the area where the bikes were on display, and let them look around. Before long, they had settled on two red bikes with a large Auto-bot logo on the front. I summoned an employee and asked for two of the bikes to be brought out so we could purchase them. He brought them out on a cart and then asked the most glorious question I have ever heard:
Would you like me to put them together for you?
Now, if any of you have ever assembled kids toys, you have first-hand experience with one of the fundamental laws of reality, represented by the following formula:
PF = CJ x 300
If you are familiar with the mathematical representation, in plain English this translates to: "The amount of joy and excitement a child gets from a toy is 300 times less than the amount of frustration and pain the parent experiences trying to assemble it."
So you'll understand when I say that Bob (the Walmart employee) literally became my hero on that fateful day.
Working in the IT field, specifically around OS deployment and management, I am proud to declare that with Windows 10, Microsoft has achieved "Bob-ness." Windows 10 is simpler to deploy and manage than any other version of Windows past.
However, like any Operating System deployment, there is still a little preparation that must be done before rolling it out in your organization.
In this blog post, we are going to take a brief look at what is required in the areas of Hardware Readiness and Infrastructure Configuration.
Hardware Readiness
With Windows 10, Microsoft was able to provide a modern and secure OS while keeping the hardware requirements pretty much the same as with Windows 7. As a bare minimum, both required a 1Ghz CPU, 20 GB of disk space, and a Direct X 9 compatible video card. The only area of difference is in the area of minimum RAM, which increased from 512 MB to 1GB.
The folks over at TechTalk have, among their many charts and graphs, one that shows average RAM amounts in PCs by year.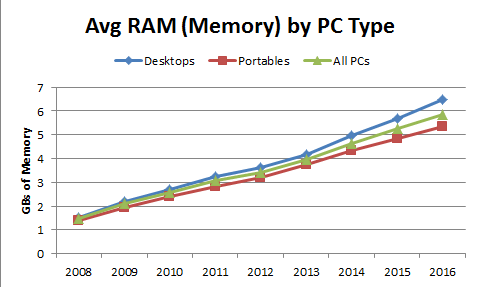 (Taken from http://techtalk.pcpitstop.com/2016/10/05/average-pc-memory-ram-continues-climb/)
If the chart is to be believed, then just about every PC from 2008 and later should meet the memory requirements for Windows 10.
While these requirements cover the basic features of Windows 10, many of the more advanced disk encryption and security features require TPM 2.0, while features like Windows Hello require a compatible camera.
Infrastructure Readiness
Many of the tools that we have used to manage Windows 7 on a daily basis have been updated to support Windows 10 in various capacities. The table below lists some of the supported management tools and what is required to enable Windows 10 support:
| Management Tool | Capabilities | Requirements |
| --- | --- | --- |
| SCCM 2007 | Software Update Deployment, Application Deployment Only | Hotfix required |
| SCCM 2012 / 2012 R2 | Software Update Deployment, Application Deployment, OS Deployment, Baseline Deployment Only | Latest SP and CU1 |
| SCCM Current Branch | All Applicable SCCM Features | None |
| AGPM | Group Policy Management | Version 4.0 SP3 or later |
| App-V | Virtual Applications | V 5.1 or later |
| DaRT | Diagnostic and recovery tools for issues | V 10 or later |
| MBAM | Management of Bitlocker Disk Encryption | 2.5 (2.5 SP1 preferred) or later |
| UE-V | Dynamic management of user data | 2.1 SP1 or later |
| Intune MDM | Software Update Deployment, Application Deployment, policy management | Internet Access |
| 3rd Party MDM | Variable | Verify with vendor |
| WSUS (Server 2008 R2) | Software Update Deployment | Hotfix required, Windows 10 / Windows 10 LTSB selected under products. |
| WSUS (Server 2012 /R2 or later) | Software Update Deployment / OS Upgrade Deployment | Windows 10 / Windows 10 LTSB selected under products. |
| KMS Server (Server 2012 R2 or earlier) | Windows Activation | Hotfix required |
| KMS Server (Server 2016 or later) | Windows Activation | None |
Microsoft really hit a home run with Windows 10, and I hope the information in this blog post has helped to satisfy some of your concerns.
For more in-depth coverage of this topic, check out our webinar, How Windows 10 Will Change Deployment Operations, on YouTube.