Estimated Reading Time:
3
minutes
The world of cloud desktop computing from any device is taking a major leap forward with the introduction of Azure RemoteApp.  Azure RemoteApp is a service that Microsoft currently has in preview that allows you to set up a Remote Desktop service as a cloud service in Azure.  For those that have used Citrix XenApp in the past, this is roughly equivalent of having XenApp run in the cloud so that it could be accessed from anywhere.  I have been testing the service for a few weeks and although it is not perfect, I believe it has some great potential for specific use cases.  Here are the use cases that I can immediately see this solution being used:
Organizations that have a large number of temporary or contract staff
Instead of having them reconfigure their personal devices or their own company devices, a company can set them up with access to the applications they need through Azure RemoteApp.  Azure RemoteApp allows allows for dynamic scaling so it can easily add more instances of RemoteApp servers as required.  This would allow a company to scale up and down based on the number of workers needed at that moment.  This would be very difficult and somewhat expensive to do with an on premises solution
Organizations that are testing BYOD
For organizations that are testing BYOD scenarios, Azure RemoteApp is a great solution to provide access to your company applications without a considerable investment in hardware for an on premises solution.  Azure RemoteApp allows a company to either create Azure RemoteApp with either a stock build that includes applications like Microsoft Office or build their own image with their own applications embedded that also VPN"s back to the datacenter to access corporate resources.
Providing Secure access to sensitive applications or data
Organizations that have secure applications that cannot be installed on local devices and you need to make sure the data never gets stored on local devices could use Azure RemoteApp to provide access to that data and applications through a secure connection.  No data would be stored on the device that is running the application.  Since the service is running in Azure you can even integrate Azure MultiFactor Authentication to secure access to the applications   So how do you start testing Azure RemoteApp.  The first thing to do is sign up for the trial here.  Currently the service is free and has a few limitations:
| | REMOTEAPP PREVIEW |
| --- | --- |
| Price (per user) | Free Preview |
| User quota (preview only)1 | 20 |
| Instance quota (preview only)1 | 2 |
| Users per Instance (preview only)1 | 10 |
| Microsoft Office Professional Plus 2013 |  Included |
| Bring your own applications |  Included |
| Device/OS support | Windows 8, Windows 7, iOS, Android, Mac OS X |
| Microsoft Account support |  Included |
| Active Directory, Virtual Network and System Center support |  Included |
| Storage (per user) | 50 GB |
Once you have signed up for the service you can choose to use a Cloud deployment or a Hybrid Deployment.  A Cloud Deployment just provides the Microsoft Office applications without any VPN capability.  Instructions for setting up the Cloud Deployment can be found here.  If you want to provide your own custom image with a VPN connection back to your datacenter then you will need the Hybrid Deployment.
Instructions for the Hybrid Deployment can be found here
Once you have set up your deployment set up and have assigned users to the service you will need to install the client from here.   Once the client is installed, just launch the client and log onto the service.  You can now launch the applications!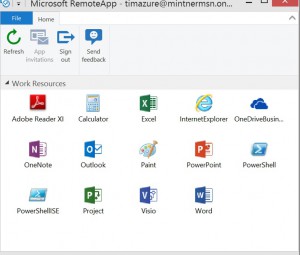 In summary this is a really interesting solution and I really think it warrants an evaluation.  I will definitely be keeping my eye on this as it moves out of Preview and into production.
Thanks,
Tim Mintner