Estimated Reading Time:
< 1
minutes
Hello, world! A quick blog to review the steps required to implement Pre-Production SCCM client upgrades.
You will need a Device Collection with members used for testing upgrades.
Verify the Hierarchy Settings – In the Configuration Manager console open Administration > Site Configuration > Sites, and choose Hierarchy Settings.
On the Client Upgrade tab of the Hierarchy Settings Properties:
Select Upgrade all clients in the pre-production collection automatically using pre-production client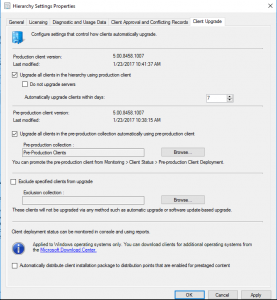 Note: that devices in this Pre-production collection, will automatically, and almost immediately be upgraded to the latest pre-production client version.
Once testing is complete you will need to promote the pre-production client to production.
In the Configuration Manager console, open Administration > Cloud Services > Updates and Servicing, and choose Promote Pre-production Client
Review the client versions in production and pre-production, make sure the correct the pre-production collection is specified, and then click Promote, then Yes.
After the dialog box closes, the updated client version will replace the client version in use in your hierarchy. You can then upgrade the clients for your whole site.