Estimated Reading Time:
4
minutes
Today's enterprise infrastructure looks a lot different than it did 10 years ago, and IT departments need to adapt. According to Gartner's Magic Quadrant for Unified Endpoint Management (UEM), which came out this past July, technology and infrastructure professionals "should expect and plan to replace enterprise mobility management (EMM) and client management tools (CMT) with UEM to support modern OSs."
But is UEM just the flavor of the month? Or are there good reasons why organizations are invested good money in UEM solutions? Remember, every tool has a cost, both in terms of dollars and manpower. Sooner or later, all cost have to be justified in terms of the value being brought to the organization.
So what is the value of UEM? What is the return for the enterprise organization?
A Few Data Points About UEM's Value
Here at Model, we like to emphasize the need to have one's infrastructure secure, compliant, and automated. These can be done if you have the right UEM services in place. There are some data points that bear this out; to make for easier reading, I've broken them into 5 considerations:
Security. According to the 13th annual 2018 Cost of a Data Breach Study: Global Overview from IBM Security and the Ponemon Institute, the global average cost of a data breach in 2018 was $3.86 million—a full 6.4 percent increase from the previous year. Timely patching can prevent such breaches, at a mere fraction of the cost. But that kind of patching gets tricky when you consider the number of mobile devices in today's workplace, as well as applications and servers that might reside in the cloud. A unified approach makes timely patching faster and easier.
Manpower. A survey by the SANS institute found that, while the majority of organizations have between one and five people tasked with endpoint maintenance and security, the number of people can be as high as fifteen or more for some organizations. A modern UEM solution can free up some of those hours, and Introducing automation into a UEM solution can free up even more time—a full 60-80% of that total manpower
Poor end-user experience. Poor end-user experience can put a significant dent into productivity. While UX is a large part of this, UEM plays a role too, as it can cut down on endpoint downtime, manage reboots in an intelligent way, and hopefully avoid software conflicts and crashes.
"Shadow" IT. Without proper UEM, end-users often turn to their own solutions (installing their own patches, bringing in applications that have not been whitelisted, etc.). A recent study from Dell EMC suggests that data loss and downtime associated with shadow IT costs organization worldwide a total of $1.7 trillion each year. Better application management through UEM virtually eliminates these costs.
Speed. All of the above is exacerbated when IT cannot act quickly enough. Organizations that are slow to apply critical patches, fail to take advantage of automation, are unresponsive to end-user needs, and sluggish about containing unauthorized applications and patches, will be destined to incur the highest IT costs. Those costs depend on IT speed, not the size of the organization itself. A large enterprise-sized organization can control costs if IT uses UEM to gain insight and act quickly.
Saving More by Using the Tools You Already Have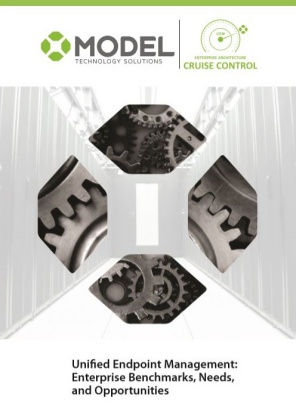 There are many UEM solutions out there. While most people understand the main idea of UEM, there is a lot of confusion as to what a UEM solution is. For example, some professionals assume a UEM solution is a software solution, or a dashboard or pane. But many also use the term to refer to a set of standards or management policies. Others think of it as a common reference point, a process, an approach, an architecture, or a goal. (For more about the market's impressions of UEM, see our white paper "Unified Endpoint Management: Enterprise Benchmarks, Needs, and Opportunities–that's it to the right.)
Of all the UEM solutions out there, Microsoft's own family of solutions has been rated as one of the most cost-effective to implement, given that the tools are already woven into several of Microsoft's products. This can cut down on the cost of UEM, since many organizations already have the tools needed to do it right.
But as I was hinting above, UEM is not just software.It also reflects a number of decisions about the management of one's environment, and how those decisions are reflected in various practices of infrastructure maintenance and automation. So, a Managed Services solution to easily customize and deploy Microsoft's tools should be in the mix as well. This is what really what brings the best return for an organization.
Calculating the ROI of Unified Endpoint Management
In the future, we plan on developing a tool so that IT departments and infrastructure professionals can estimate their savings if they were to deploy a modern UEM solution. If you can't wait, reach out to us and we can go over the numbers with you.
If you are just starting out in your exploration of UEM, why not check out our UEM page?