Estimated Reading Time:
4
minutes
If you told me when I co-founded Model in 2014 that I would eventually end up in the SaaS business, I probably wouldn't have believed you. When we launched Model, we were so consumed with creating and sustaining a customer-centric company—executing and marketing a standalone product was the furthest thing from my mind. Six-plus years later, I'm proud to say that we are one of the most customer-focused companies in our niche.
Of course, six years is a long time in our industry. In that time, we've developed and honed many tools to automate installation, patching, and continuous deployment for Windows 10, both for large companies and small. Our tools have now been road tested many times, and we've had a lot of success with them… So we made the call to roll them out for the rest of the market.
What is Objur?

We know that there are two forces that tend to collide organizationally: The IT staff and admins who are tasked with keeping networks secure and current, and operational staff, who don't always prioritize update schedules.
Objur helps automate Windows 10 continuous deployment and security patch updates so your internal IT folks and admins can stay focused on revenue generation. It's our four-way solution that addresses many of the pain points we discovered when working with continuously updating environments.
With Objur, Model provides:
Improved user experience when it comes to SCCM Windows and software updates
Insights into (and remediation for) potential problems before they interrupt your deployment schedule
Reasonable accountability standards for users to schedule their own updates and patches
Increased compliance and reduced drift in Windows 10 continuous deployment environments
The Objur suite includes four primary applications which address the primary goal of keeping all your endpoints standardized and secure:
Update Notification User Interface (UNUI)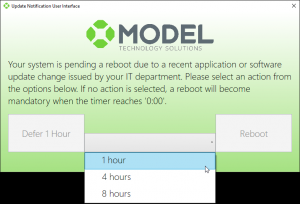 Clients need to enforce update schedules to satisfy compliance and maintain network security. UNUI allows an end-user to select when they want to install an Operating System update, or upgrade to the newest supported version of Windows 10, all while adhering to deadlines mandated by IT administration or security. We noticed massive increases in compliance with clients where we've used this tool.
The UNUI is simply explained like this:
End-user control + organizational oversight = increased compliance and consistency
That convenience does not occur at the expense of security and standardization. If the end-user continues to neglect a patch or an update, admins have the option of executing the update automatically.
OS Development Insights (OSDI)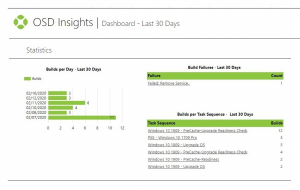 We heard time and time again that our clients were bogged down with tickets after a single update. What they needed was more than just compliance. They also needed predictability.
The more you can predict errors, the easier it is to get in front of it or implement automated solutions to prevent them from happening. OSDI is a reporting utility with predictive technology that gathers insight from UNUI. Before you schedule an update, OSDI generates intelligence that predicts a range of potential errors including:
Whether or not a machine has adequate available disk space for the upgrade
Existing endpoint compatibility issues with the update driver set
Applications that aren't compatible with the next Windows 10 update
Increased predictability so problems are solved in hours, not weeks
Decreased update-related headaches for both the end-user and admin sides
With OSDI, you have the flexibility to run reports with as much detail as you need. High-level reports offer a 10,000-foot visual to share with decision makers and senior leadership. More granular reports provide insights for team members who need specifics on singular errors.
In-Place Update Hydration Kit
The Hydration Kit module prepares endpoints for deploying Windows 10 by hydrating a phased deployment process with a few clicks. Its role is pretty simple, but we found that it saved our clients a lot of time and headaches by caching content for future deployment. Installation and deployment can now be done successfully in phases, saving time and user disruption.
Dynamic Deployment Interface (DDI)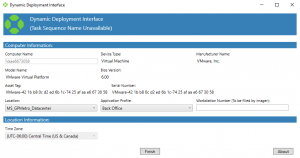 The Dynamic Deployment Interface is a front-end window presented to a user or administrator during a lite-touch Operating System Deployment scenario. The interface presents controls for machine name, Organizational Unit placement, and other standard imaging tasks.
Additionally, DDI connects to a web service to gather data from a SQL database backend in which IT administrators define items to control the imaging process, such as software required during installation based on defined machine groupings.
Objur Adapts to Numerous Scenarios and Industries
Businesses need certain roles to be treated separately while protecting the network from sensitive data theft or leaks. Each of our clients require flexibility no matter what tool we give them. For healthcare, finance and other heavily regulated industries, patching is not a one-size-fits-all solution, nor is Windows 10 continuous deployment. The flexibility in the Objur tool suite focuses on end-user empowerment and provides control appropriate for the industry or enterprise environment.
Our hope and our goal is that Objur satisfies these sets of business problems. We know they've worked for a lot of small and large companies. I certainly hope they help you.
Ready for Network-Wide Predictability and Consistent Compliance?
You can read more about Objur here, or go ahead and request a demo.